WDM Wavelength Division Multiplexing is a transmission technology in fiber optic communication that uses a single fiber to transmit multiple optical carriers of different wavelengths simultaneously. Different wavelengths of light result in different transmission losses in the optical fiber. In order to reduce the losses as much as possible and ensure effective transmission, it is necessary to identify the most suitable transmission wavelength. After a long period of research and testing, it has been determined that light in the wavelength range of 1260nm to 1625nm exhibits the lowest signal distortion and loss caused by dispersion, and is most suitable for transmission in optical fiber.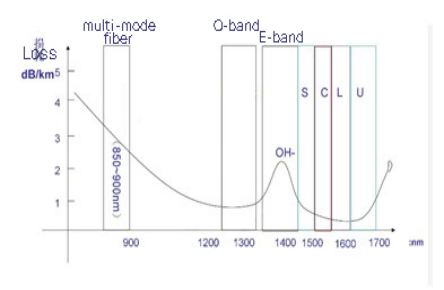 The possible applications wavelengths of optical fiber are divided into several bands, each band serving as a separate channel to transmit optical signals at a predetermined wavelengths. In ITU-T, the single-mode fiber in the band above 1260nm is divided into several bands, including O, E, S, C, L, and U bands.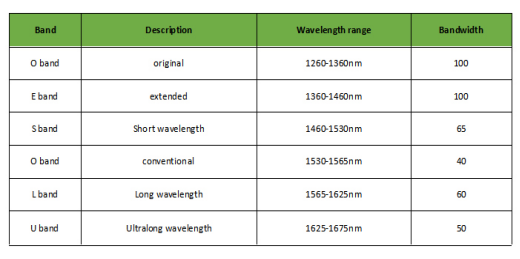 What is O band?
O-band is the original band, ranging from 1260 to 1360nm. The o-band is historically the first wavelength band used for optical communication, characterized by minimal signal distortion (due to dispersion).
What is E band?
The E-band (extended wavelength band: 1360-1460 nm) is the least common of these bands. The E-band is primarily used as an extension of the O-band, but its applications are limited. This is mainly due to the fact that many existing fiber optic cables exhibits high attenuation in the E band and the manufacturing process for E-band components is energy intensive.
What is S band?
The fiber loss in the S-band (Short-wavelength Band) (1460-1530 nm) is lower than that in the O-band, and the S-band is used as the basis for many PON (Passive Optical Networks ) systems.
What is C band?
band (Conventional Band) ranges from 1530 nm to 1565 nm and represents the conventional wavelength band. Optical fiber exhibits the lowest loss in the C-band and has a major advantage in long-distance transmission systems, which are often used in combination with WDM in many applications, including metro networks, long-haul transmission, ultra-long-haul transmission and submarine communications. Optical transmission systems and EDFA (Erbium-Doped Fiber Amplifier) technologies. As transmission distances increase and fiber-optic amplifiers replace optical-to-electronic-to-optical repeaters, C-band is becoming increasingly important. With the use of DWDM (Dense Wavelength Division Multiplexing) technology, which allows multiple signals to be transmitted over a single fiber , the usage of the C-band was expanded.
What is L band?
The L-band (Long-wavelength Band: 1565-1625 nm) is the second lowest-loss wavelength band and is often used when the C-band is insufficient to meet bandwidth requirements. With the widespread availability of b-doped fiber amplifiers (EDFAs), DWDM systems expanded into the L-band, initially serving as a means to expand the capacity of terrestrial DWDM optical networks. Nowadays, the L-band has also been introduced to submarine cable operators with the same objective of expanding the total capacity of submarine cables.
Due to the lower transmission attenuation loss in the C-band and L-band, the signal light in DWDM systems is usually selected from these two transmission windows. In addition to the O-band to L-band, there are two other bands, namely the 850nm band and the U-band (ultra-long band: 1625-1675nm). The 850nm band is the primary wavelength uesd for multi-mode fiber optic communication systems, which utilizes VCSELs (vertical cavity surface emitting lasers). The U-band is mainly used for network monitoring purposes.
WDM technology can be divided into WDM, CWDM and DWDM according to different wavelength modes. ITU for CWDM (ITU-T G.694.2) specifies the wavelength range of 1271 to 1611nm, but in practical application, considering the relatively high attenuation in the 1270-1470nm band, so the range of 1470-1610nm is usually used. The DWDM technology use more closely spaced channels, using the C-band (1530nm-1565nm) and L-band (1570nm-1610nm) transmission windows. Conventional WDM, on the other hand,generally uses 1310 and 1550nm wavelengths.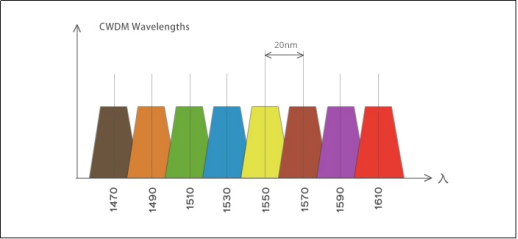 With the growth of FTTH applications , the C-band and L-band, which are most commonly used in fiber optic networks, will play an increasingly important role in optical transmission systems.
With 20 years of OEM/ODM manufacturing experience in the optical communication industry, Yiyuan Tong Technology has developed and manufactured WDM devices for comprehensive applications in metro networks and 5G We have diversified design and manufacturing capabilities to meet various application requirements, such as pigtail module, insert LGX, high-density rack, 6portWDM, CCWDM, heatless multi-channel AWG, 5G module, etc. We are fully committed to helping global 5G deployment and development.