What is Data Center Network
Data center networking refers to the process of providing network, storage, and computing resources to enterprise or data center tenants to perform various workloads. These workloads require different hardware or high-end network components for computing, storing, retrieving and transferring data from local and WAN(Wide Area Networks).
The core pillars of the data center network
In the architecture of a data center network , there are three fundamental components that constitute the core of the data center network: the network infrastructure, server infrastructure and storage infrastructure. These components must collaborate and work together seamlessly to deliver faster and more reliable data center network services.
To ensure high performance of the data center network and adherence to service level agreements (SLAs), a data center network solution is an essential components of data center operations, such as a comprehensive data center infrastructure monitoring solution (DCIM). These solutions assist NOC technicians and data center technicians in tracking, monitoring, diagnosing and troubleshooting network devices, physical and virtual servers, and storage devices.
Data Center Network Management
A data center network is a complex system of routers, switches, interfaces, and other network devices that interconnect the various compute and storage units in the data center resource pool, ensuring a high level of performance.
Furthermore, as network usage continues to increase and enterprises migrate to data center services, unique challenges arise, making it important to deploy Data Center Network Manager (DCNM) / DCIM software such as OpManager for effective data center network management. OpManager's Data Center Network Infrastructure Management enables you to manage, upgrade and monitor your data center network platform, ensuring optimal service delivery and providing a comprehensive view of the data center network configuration, as well as individual data center network components and dependencies.
In the data center network, the following are some of the critical areas that need to be monitored on a regular basis.
Real-time availability.
OpManager's data center network solutions offer comprehensive network operational status and availability monitoring to ensure that your data center network achieves optimal performance 24/7.
It uses Cisco IP SLAs to offer complete visibility into all network devices, associated interfaces/ ports and WAN links. It features built-in data center network monitoring tools that offer real-time dashboards and a multi-level threshold-based alerting system,enabling instant identification and resolution of network issues based on early indications, before they cause network outages.
Bandwidth monitoring.
In data center networks, analyzing bandwidth usage patterns, tracking application growth and the number of connections, and controlling excess bandwidth consumption are also crucial. This helps identify and allocate optimal bandwidth, preventing bandwidth waste and traffic congestion that may hinder network performance.
with OpManager's Data center networking capabilities, you can effectively monitor over 230 different interface types out of the box to track interface performance using metrics such as traffic speed, errors, drops, packet loss, and advanced bandwidth and traffic analysis. Additionally, you can leverage the built-in Netflow module to gain deeper insight and take action on capacity planning, anomaly detection, traffic shaping using ACLs, and more.
Network Configuration Management.
Network configuration management is a critical process that is performed throughout the lifecycle of assets in a data center network (DCN). Even simple configuration errors due to human error can lead to disruptions, loss of revenue, and failure to meet service level agreements (SLAs), which can result in legal consequences.
OpManager, along with its built-in network configuration module, provides comprehensive lifecycle management of network device and configuration management for data center networks. It covers initial configuration during device addition, change management through authorization and configuration backup, batch or complex operations through configlets with scheduling, and enables compliance with various regulations such as PCI DSS, Sox, HIPAA, etc.
Monitor computing resources for efficient data center networks
At the core of all data center operations is a platform of computing resources that serves as the backbone for a variety of mission-critical enterprise or business applications and services. This includes a variety of servers such as database servers, core application servers, caching servers, web servers and virtualization such as VMware, Hyper V and Xen environments.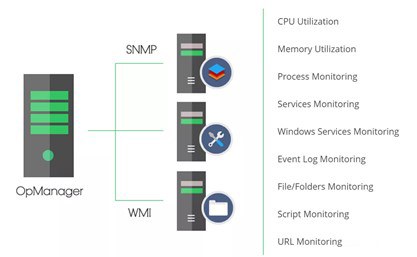 OpManager's data center networking solution offers hardware-independent , real-time server monitoring to track server operational status and availability server system resources (CPU, memory, disk usage, I/O, processes, etc.), data loss, server responsiveness, server capacity and user load. with the help of multi-level thresholds configuration and instant notifications via email or SMS, server problems can be prevented proactively.
OpManager's Data Center Server Monitoring Features
Real-time server performance monitoring
Server operation status and availability monitoring
Multi-level threshold-based monitoring
Monitor application performance
Monitor VMware ESX server and client operating system performance
Exchange Server Performance Monitoring
Service Monitoring
Server Process Monitoring
Event Log Monitoring
Website and URL monitoring
In addition, you can explore individual monitoring capabilities for data center network virtualization with VMware, Hyper V and Xen, as well as for Hyper Converged Infrastructure (HCI).
Monitoring Data Center Network Storage Components
The world is generating much more data than it did a decade ago. As a result, data center networks must commission extensive network storage architectures to accommodate the massive data flows from data-intensive applications such as analytics or data processing tools. It also emphasizes the need to monitor and manage the data center network storage infrastructure with a dedicated data center network storage solution. This ensures that enterprise or business-hosted applications or services operate properly without disruption due to storage failure.
OpManager's data center networking solutions offer in-depth network storage monitoring, supporting redundant arrays of independent disks (RAID), tape libraries in Serial Attached SCSI (SAS) or Network Attached Storage (NAS), as well as Fibre Channel (FC) or Storage Area Network (SAN) switches. It also provides topological storage visualization and storage capacity prediction based on machine learning algorithms.
By monitoring your storage devices with OpManager's data center networking solution, you can improve visibility into your storage environment and avoids downtime associated with storage issues. This solution also provides comprehensive monitoring of your entire IT infrastructure, eliminating the need for a standalone storage solution and reducing costs. This sets it apart from other network data center solutions that may lack key features for effective data center infrastructure management (DCIM).
Data Center Network Visualization
Visualizing the network, server and storage infrastructure in a data center network is crucial for identifying network problems and performance bottlenecks. It provides a comprehensive view of the entire data center network, allowing you to troubleshoot issues or add capacity with a full understanding of all dependencies. This plays a key role in ensuring the smooth operation of the data center network.
OpManager's capabilities in data center networking enable you to easily visualize all components of your data center network, allow you to quickly identify network problems, outages and locate performance degradation at a glance. You can quickly drill down to the root cause of a network problem and troubleshoot it using built-in workflow automation and network troubleshooting tools.
Some of the features it offers include business view, map view, 3D rack and floor view, and layer 2 maps.
Business View: This view allows to visualize network devices, servers and storage belonging to a specific business. It shows the operational status and availability of these devices through the interface status.
Map View: This view allows visualizing network devices, server or database clusters and storage devices on a Google/Zoho map. It also shows the status of devices with a quick drill-down option.
3D Rack and Floor View: This allows you to recreate server rooms and view racks and servers in 3D form. It shows the status of servers and ports, and allows for quick identification and easy troubleshooting. In other words, you can view a real-time representation of the server room from the Network Operations Center (NOC).
Layer 2 Mapping: This view provides a detailed representation of the data center network topology, all nodes, interconnect layers, and port-to-port connections for data center network devices from the seed/core router.
CCTV View: This view allows you to project the dashboard onto a larger screen for NOC monitoring. It gives you a complete view of your data center's network performance from the NOC room.
Data Center Management Issues
Data Center Performance Management – The synergy of server performance (physical and virtual), application performance, and adequate bandwidth is a huge challenge. The challenge increases exponentially when different/less efficient data center monitoring tools are used.
Whenever an end user reports slow access to an application, the issue could potentially lie with the server, the bandwidth, or the application itself. To identify the exact problem, you must diligently analyze multiple monitors and thoroughly investigate various aspects, including server performance, bandwidth bottlenecks, and application performance. Unfortunately, the provided tools often fail to establish correlations between the collected data. As a result, while attempting to organize and search for problems, the application may experience complete shutdown.
Monitor Data Center Performance
OpManager is a network and data center management software that takes an integrated approach to data center monitoring. It enables proactive monitoring of physical and virtual servers, applications and core bandwidth, while providing a single console to manage failures. OpManager provides a single alert console where all issues are raised, regardless of the type of application, server or bandwidth, making it easy for technicians to access alerts in real time and gain insight into the exact problem, enabling troubleshooting before end-users feel the impact. This greatly improves the efficiency of the data center management process.
Physical and virtual server monitoring
OpManager out-of-the-box includes support for widely used servers such as Windows, Linux, Solaris, VMware, Hyper-V, and more. It provides dedicated dashboards for the worst performing hosts and virtual machines that require immediate attention, which helps improve the efficiency of data center performance monitoring.
In-depth application monitoring
OpManager, through the integrated Applications Manager, monitors the performance of mission-critical applications such as Oracle, JBoss, Tomcat, WebLogic, WebSphere, SilverStream, GlassFish, etc. You can customize the tabs and load the web client of Applications Manager within the OpManager web client.
Data Center Environmental Monitoring
Temperature monitoring is also a critical parameter in data center monitoring, and OpManager can monitor the temperature of servers and routers. You can configure thresholds and monitor them proactively.
What are the advantages of data center network solutions
Data center network solutions help monitor the performance, operational status, and availability of an organization's data center network. These solutions also assist in visualizing the data center network in various graphical formats to enable effective management.