PON access network technology choice - EPON
Features:
1.Point-to-multipoint fiber optic transmission and access technology.
2.Broadcast method for downlink and time division multiple access method for uplink.
3.Dynamic Bandwidth Allocation (DBA).
4.Network topology: can be flexibly formed into tree, star, bus, etc.
5.Save optical cable resources (single fiber), bandwidth resourcesharing , save investment in server room, ensure high equipment security, accelerate network construction speed and reduce comprehensive network construction costs.
EPON versus traditional Ethernet point-to-point networking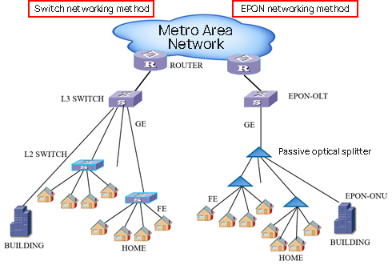 PON access network technology of choice - GPON (Gigabit-capable Passive Optical Networks)
Three major advantages.
1. Longer transmission distance: using fiber optic transmission, the coverage radius of the access layer can reach up to 20 Kilometers.
2. Higher bandwidth: 2.5G downlink/1.25G uplink per user (physical layer).
3. splitting characteristics: single fiber at the local end after splitting leads to multiple fiber to the home, saving fiber resources.
GPON supports triple-play services and can provide full-service competitive solutions, effectively addressing the bandwidth bottleneck of twisted-pair access and meeting users' demand for high-bandwidth services, such as high-definition TV and live broadcast, etc. GPON is the best solution for triple-play integration.
Perfect GPON standard, excellent integrated service support, high technical requirements, making it the choice of large global operators.
GPON Key Technology - DBA (Dynamically Bandwidth Assignment)
A mechanism to dynamically allocate uplink bandwidth in microsecond or millisecond intervals.
--- Can improve uplink line bandwidth utilization on PON ports;
--- More users can be added to the PON port;
--- Users can enjoy higher bandwidth services, especially those that require more sudden changes in bandwidth.
Fiber-to-the-Building (FTTB) Networking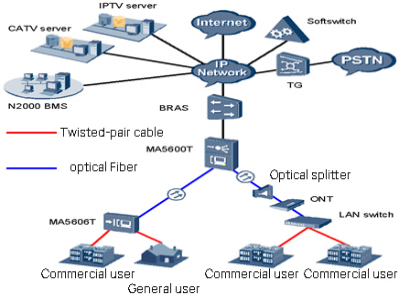 TG: Relay Gateway
BRAS: Broadband Remote Access Server (BRAS)
ONT: Optical Network Terminal
Comparison of GPON and EPON
EPON: The standard is relatively simple and easy to implement. The technology is basically mature, and there are more commercial chips available, leading to decreasing costs.
GPON: There are more detailed standard regulations, but technology is complex. Fewer chip manufacturers, and research and development are lagging behind. Interoperability of devices from different vendors has not yet been achieved. Relatively high cost, and industry chain development in progress.